Skip to Content
Creating Exquisite Custom Bridal Jewelry
Perusing bridal jewelry is something many of us look forward to. Perhaps you have lots of ideas from bridal magazines and TV shows, but you just haven't found the perfect piece to match your preferences and personality. Fortunately, when it comes to diamond wedding rings, you're limited by little else than your imagination. The team at Keepsake Diamond Corp can help you create custom bridal jewelry to commemorate your big day. Visit our keepsake bridal jewelry shop to see what our staff can do for you.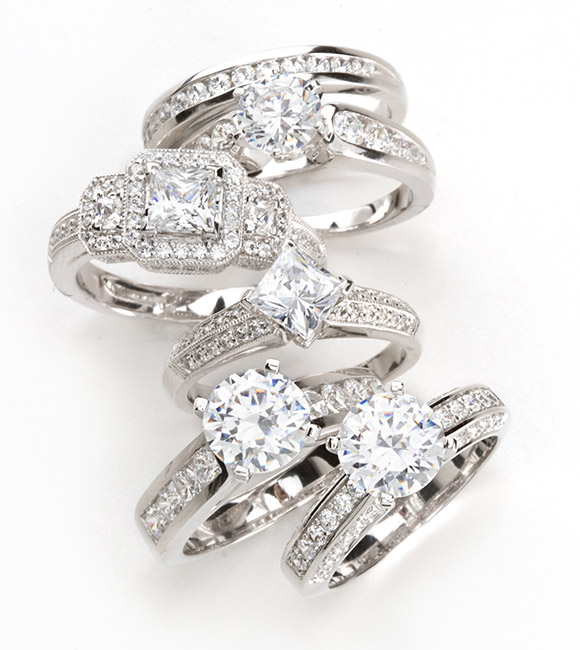 What Can I Customize?
Here's what's exciting about custom bridal jewelry—you can tailor your diamond rings or wedding bands to nearly any style and preference. At our shop, we're happy to customize nearly any type of bridal jewelry you have your eyes on. Here are just a few examples of items our professional team can work with:
Bridal rings sets
Matching or contrasting wedding bands
Engagement rings
Any type of keepsake bridal jewelry
Explore Your Customization Options
Custom jewelry is the perfect way to begin your life with your bride-to-be. Customized engagement rings or wedding bands speak to the unique and beautiful relationship you share. Because we understand one size does not fit all when it comes to diamond wedding bands, our team is happy to explain your numerous customization options. Talk to our professional staff about these methods of customizing your wedding rings:
From Scratch
Perhaps you can't find the perfect bridal ring you picture in your head. In that case, our team can help you build your very own wedding ring set, from picking out the stone to designing a custom setting.
From a Loose Stone
If you already have a stone you'd like to use for your wedding ring, let us know. We can custom design an engagement ring or diamond wedding band around it.
From an Heirloom
Many people have beautiful heirloom jewelry with years of meaning behind it. If this is the case for you, you may want those pieces transformed into a custom bridal ring. We can reset heirloom jewelry, whether you'd like to mimic the old design or you're looking for something completely new.
Speak with Our Knowledgeable Staff
Designing a diamond bridal ring isn't a process you should navigate alone. With the experienced team at Keepsake Diamond Corp, you can create a gorgeous piece of jewelry that captures your love and commitment to your partner. Whether you're interested in a custom engagement ring or a classic diamond wedding band, we're Commack, NY's top choice for creating unique jewelry meant to last a lifetime.