Skip to Content
Keepsake Diamonds Corp. Offers Jewelry Buying on Long Island
We all have that one earring in our jewelry box that is missing its match or is broken beyond repair. Or what about an unused bracelet or necklace that you no longer wear? These situations happen to everyone at some point, and you're left wondering what to do with the items. Do you keep them in your jewelry box, hoping you'll one day change your mind or find the missing pair? At Keepsake Diamonds Corp., we've got another option. Our jewelry buying service at our Long Island location gives you the opportunity to sell these items and get cash. Bring your gold and diamond jewelry to our store in Commack, NY, and see what it's worth.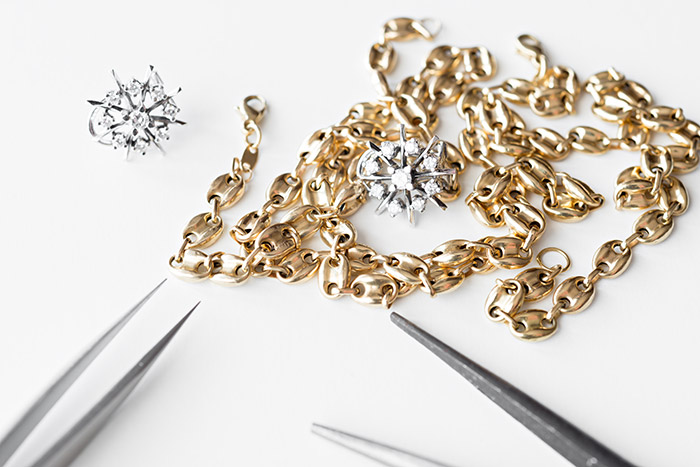 Accepting Many Types of Jewelry Items
Keepsake Diamonds Corp. is here to take your used fine jewelry pieces off your hands. Whether your item is broken, or you simply don't wear it anymore, we can offer you cash in exchange for your jewelry items. Bring them to our location, and we'll determine what they're worth. We'll then offer you a dollar amount for your pieces using the current market prices as a guide. Our jewelry buying service at our Long Island, NY location accepts all of the following:
Turn Your Old Jewelry Items into Cash
There's no reason to let your unused jewelry sit around collecting dust. Even if the item is damaged, it's likely still worth money. You could potentially have a decent payout on your old jewelry. At Keepsake Diamonds Corp., we are able to offer you top-dollar for your gold, silver, and diamond jewelry. Bring your items to our Long Island, NY location, and let our expert appraiser determine their worth and offer you cash. If you have any questions about our jewelry buying service, please do not hesitate to contact us or stop by.